What to Do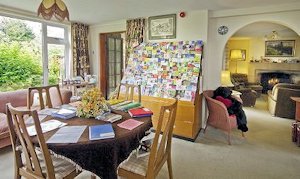 We have an extensive selection of local maps, guides and information for our visitors' use, whilst they are with us, and we are always happy to help with planning a route.
Bicycle Hire
There is a local cycle hire business nearby (and others within about 10 miles) with all the necessary equipment, insurance and accessories available. They will provide suggested routes of varying difficulty and length and cater for all ages, including a trailer buggy. We can arrange to take our guests locally to collect their cycles.
Walking
The Cotswolds are criss-crossed with footpaths, originally connecting homes, churches, shops and places of work by the shortest route. Some of their origins have long ago disappeared into the mists of time, leaving only the right of way. We have lots of information guides on walks, ranging from a 1 mile stroll, to The Cotswold Way, 100 miles from Chipping Campden to Bath. Our large scale walking maps should remove any excuse for getting lost. It is advisable to bring good walking shoes or boots if you intend to walk very much.
Places To Go
Within an easy 1-hour car drive, there are numerous places to visit, and things to do -
5 minutes
Chipping Campden
20 minutes
Stratford upon Avon, Broadway, Stow on the Wold, Moreton in Marsh, Evesham
30 minutes
Warwick, Kenilworth, Chipping Norton, Burford, Bourton on the Water, Northleach, Tewkesbury
1 hour
Malvern, Worcester, Birmingham, National Exhibition Centre, Coventry, Banbury, Oxford, Cirencester, Cheltenham, Gloucester, Bibury, Lechlade, Forest of Dean
which offer
historical buildings
connected with famous people; cathedrals; churches (including Saxon); abbeys, country houses; castles; manor houses; palaces; farms; barns; dovecotes;
sporting pursuits
horse racing; course and fly fishing; golf; horse riding; swimming pools; fitness, sports and leisure centres;
museums
teddy bear; motor; village life; motorcycle; arts & crafts movement; railway memorabilia; English civil war; needles;
manufacturing
woolen mill; silk printing; potteries; silk painting; porcelain; garden pots etc;
attractions
steam railway; art & craft fairs; model village; markets; antique markets; warehouses and fairs; art galleries and exhibitions; many kinds of theatres; cinemas; town markets; car boot sales; craft centres; model railway, mazes; farmers' markets;
animals
domestic fowl; water fowl; wild life park; the first rare breeds farm park; birds of prey; fish farms; shire horses; butterflies;
gardens
many different styles and sizes of gardens from small domestic to large landscaped grounds; specialist nurseries; garden centres; garden furniture and statues;
Events
Throughout the year, there are local events which visitors may find of interest, e.g.
| | | |
| --- | --- | --- |
| March | Cheltenham | Gold Cup Horse Racing Festival |
| May Day | Chipping Campden | Morris dancing in town square at 7 am |
| May | Stow on the Wold | Stow Horse Fair |
| May/June | Chipping Campden | Robert Dovers Games and Scuttlebrook Wake |
| June | Chipping Campden | Local gardens open for charity |
| June | Malvern | Three Counties Show |
| July | Stow on the Wold | Longborough Opera Festival |
| September | Moreton in Marsh | Moreton Agricultural Show |
| November | various locations | Guy Fawkes Bonfire and Firework Displays |
| December | Chipping Campden | Victorian Evening - late evening street entertainment plus carol singing, pig roast, street stalls and late night shopping for Christmas |
| December | Stratford | Late Night Christmas Shopping - street market, pig roast, carol singing, late night shopping for Christmas |
If you would like more information about what's on and things to do in our area, please visit our events page here.
---
More Information
For more information about the area please visit:


Stratford Upon Avon Theatre
If you want to visit the theatre at Stratford during your stay, there are generally up to 8 plays (not all Shakespeare) across the three theatres, except during the Visitors Season (see weblink below for schedules), when there is a wide variety of entertainment.

The Royal Shakespeare Memorial Theatre is the well known one, with a large audience capacity. This usually has Shakespeare's plays.

The Swan Theatre is the newer one, with a smaller capacity and built along the same design as the Globe Theatre in which Shakespeare appeared, but with a full roof! This theatre has Shakespeare's and other playwrites' work, generally of a similar kind. It is smaller and therefore more intimate than the main theatre, and many regular theatergoer's in Stratford prefer it.

The Other Place has just been renovated. It was a rehearsal room originally, and over many years became used for some Shakespearean plays and more modern productions. Again it is smaller with basic facilities.

If you have not had much experience of Shakespeare, it is worthwhile seeing one of the comedies, particularly at The Swan, as they are easy to follow and everyone enjoys them, even if they have had no experience of Shakespeare before.

Between May and September it can be very difficult to obtain seats unless you have booked in advance. However, there is a "returns queue" for particularly popular plays, and it is always worth calling at the box office to ask about seats - some of our visitors have obtained tickets at 5.30 pm and 7.20 pm for a performance which started at 7.30 pm, when I had telephoned earlier for them and been told there were no seats left.

The theatre performance schedules are planned and available up to 6 months ahead, so you should be able to obtain details in time to make your arrangements if you do not want to risk leaving it until you arrive.

Visit - www.rsc.org.uk for more information and on-line booking.
Overseas Guests' Information
We have more information specifically for our guests who are traveling from abroad. We will send the details with our confirmation of a reservation.
---